Last month I featured new Germantown nail salon Poppy & Monroe on 12th & Broad Broad Style. I am obsessed with this gorgeous environmentally friendly nail oasis that sits at the corner of 6th and Monroe. Once you have your nails done here, you won't want to go anywhere else. The salon is drop-dead gorgeous, which is no surprise considering owners Sherri Coates and Karen Kops, both have backgrounds in interior design. From the minute you walk through the pink lacquered door of this 100+ year-old Germantown home, you're transported to a cool, modern, relaxing space that's luxurious without being pretentious. You're going to want to spend a lot of time here.
Photo by Blu Sanders
Sherri and Karen are savvy entrepreneurs who have done their homework on bringing the latest environmentally conscious salon trends to Nashville. Don't expect to soak your hands and feet in water here. This salon uses waterless services, and in doing so, will save an average of 15,000 gallons of water in a year. I was sold on this salon after a quick 15-minute polish application at their opening event. After six days, I only had one tiny chip. For me to get six days from regular polish is unreal.This is a testament to the products they're using and their skilled, knowledgeable staff. They are currently testing environmentally conscious gel nail products to find the right one that has the staying power of the gel polishes we're used to using. Now that I know many gel polishes can be unregulated in terms of the ingredients used, I'm just fine waiting for a more environmentally friendly version.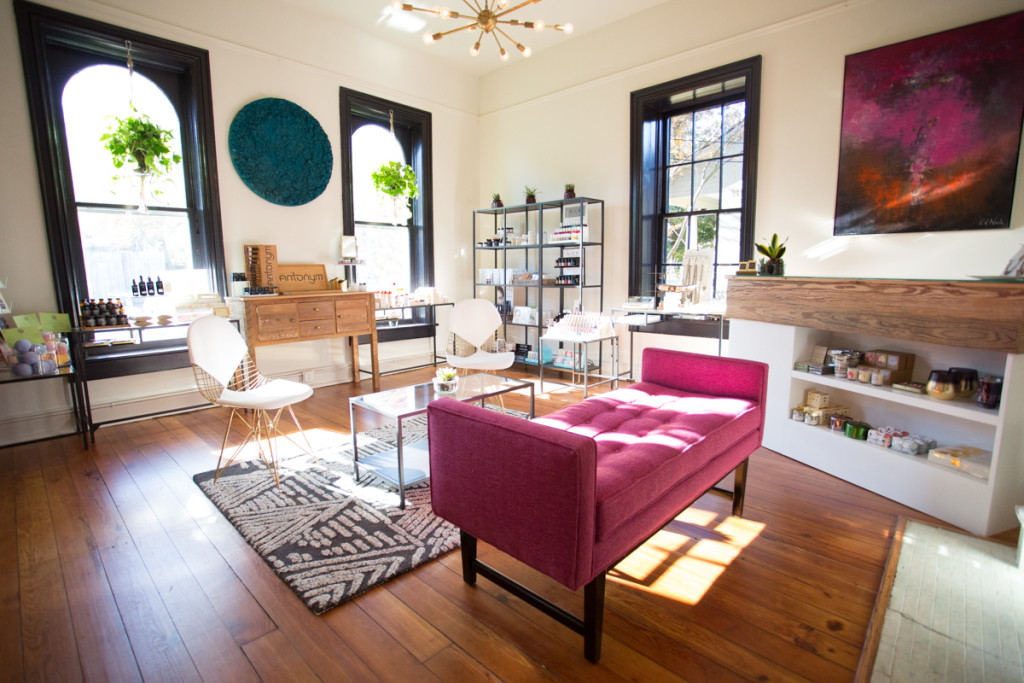 Photo by Blu Sanders
One of the many things I love about Sherri and Karen is that they're perfectionists. They want your experience to be incredible every time and they won't stop testing products until they get the absolute right ones. I appreciate that attention to detail.
Here, Sherri and Karen answer five questions about the salon and its services.
How did you and Karen meet?
Interestingly enough, at the BDNY (Boutique Design) hospitality trade show in NYC last year. Karen was attending the show after just leaving her VP post at a large hospitality firm. The company I was a VP for competed with hers for major hotel brand programs on the product and interiors side. She came to my booth and we realized quickly we were both working out of Nashville, which is unusual for our industry with the extensive travel required. It took a few more months for us to even get together here in town, but once we did, the ideas to possibly collaborate together started flowing rather quickly.
What type of experience should customers expect?
Karen's and my backgrounds in hospitality taught us well about the "entire experience" of what authentic hospitality and luxury means. From the minute someone walks through our Magenta Manicure door, (yes it's an actual color) they will see every loving detail we poured over to create the ideal blend of comfort and repose in the space itself. We have so little time to truly "get away" in this hectic world of ours, we want to make sure every customer feels truly pampered each and every time they visit us. Upon entering we will offer a warm herbal neck wrap and invite you to sit back and recline in one of our custom made chairs we searched the globe for. Throughout the services, our artists will use our custom made, locally sourced organic soaks, scrubs and lotions that Karen worked on so closely with our local partner over many months to ensure their quality, and to perfect our signature scent of rose and tea tree. It's details like these we hope our customers will enjoy and keep coming back for.
Photo by Blu Sanders
You've taken great care to carry and use environmentally conscious lines. Some are even Nashville-based. Explain the importance of this, especially when it comes to beauty products and treatments.
Throughout our research we've learned that on average men and women use approximately 10-15 personal care products per day with a total of 126 different ingredients within these. Given that nearly 90% of cosmetic ingredients are left untested for safety, it can be a bit alarming to think that most of what you put on your body hasn't been regulated. Our goal was to take the guesswork out of the equation for our clients. We've personally tested all of the products we sell for efficacy and purity. We've vetted the ingredient lists so you don't have to.
We love local! We currently carry four cosmetic lines and one jewelry line that are from Nashville. Among these on the product side are Blueberries and Lace (who makes our in-service products as well), Golden Apothecary, Rainwater Farms and Aila (who makes one of the lacquer lines we use and sell), and Branded Collective on the jewelry front. Karen is a native Nashvillian and is proud to promote local as much as possible. Having lines as amazing as these makes local partnerships easy to execute.
Waterless services will be new to many people. Explain the benefits.
Research was a crucial part of our process. In looking at trends in salons, and the nail care business in general, we kept running into this concept of waterless services. Intrigued, we took a seminar by one of the pioneers of the trend while attending a beauty show in Las Vegas this summer and that's all it took. We were hooked. In speaking with medical professionals, as well as nail care representatives around the world, we knew it was something we had to bring to Nashville given the benefits it brings to the table - better polish adhesion, less risk of water-borne bacteria and the ability to save a valuable natural resource. Did you know the average salon uses over 15K gallons of water a year?!?!. We knew there had to be a better way!
Name five of your favorite places in Nashville.
Sherri: 12th South has way too many shops and restaurants I enjoy & frequent, Radnor, Franklin, Leipers Fork.
Karen: I'm an East-Side girl so I have to say Shelby Park is my personal fave. It just keeps getting better!
Read the full interview on 12th & Broad here. Poppy & Monroe will host their event of the year to celebrate Valentine's Day on February 2 from 5-7pm. Connie Smith, who wrote the book, "Never Lose Heart,"will be doing a book signing that night and some great brands like One Love Organics will be featured too. See you there!