Charming. Comfortable. Quintessentially Southern. These are the first words that came to mind when I walked into Reese Witherspoon's new retail shop, Draper James. Named after Witherspoon's grandmother, Dorothea Draper and her grandfather William James Witherspoon, Draper James embodies everything Reese loves about the South. From Totes Y'all tote bags to enclosure cards with Southern sayings ("You're the Bees Knees"), Reese has truly thought of everything with her new lifestyle brand.
The store was designed to capture the warmth and charm of a Southern woman's home. It actually shares an interior designer (Mark D. Sikes) with Reese's new Nashville residence. It was important to Reese and her team to include southern touches in the design. You'll find a mud room in the back entrance, and a marble cash wrap that mimics a kitchen island complete with bar stools. There are also several sitting areas where customers can relax and enjoy a sweet tea.
Two things struck me about this brand. Reese is very involved in the design process, which isn't always the case with celebrity-driven lifestyle ventures, and there is a genuine importance placed on giving back to the South. Forty percent of the items in the store are manufactured in the South with plans to add more. Reese has recently partnered with the YWCA's Girls Inc. program to teach young women in Middle Tennessee how to be responsible with their money and grow into financially independent women. The night before Draper James' grand opening, they hosted an event with the YWCA called "Girls Just Wanna Have Funds" that helped 500 girls from Metro Nashville Public Schools, along with their moms and women mentors, learn the tools for being financially responsible.
Draper James CEO Andrea Hyde was in Nashville for the big grand opening celebration. She sat down with me for a traditional 12th & Broad 12 Questions and gave more insight into the brand, what we can look forward to for holiday, and what to expect when you shop the retail store.
How do you describe the Draper James brand?
The brand is a southern retail lifestyle brand that was built on the backdrop of Reese growing up in the South.
With the online store launching first, was there always a plan to open a physical retail location?
Yes, there was always a plan to open the retail store. It has been great to launch online first because it has given us a lot of feedback from our customers…what works and what doesn't, what fits and what doesn't, and what they're loving and who is buying it. We've sold in 50 states and 30% of our buyers are from the South. We've sold in 22 different countries. They're telling us what they like and what they want. They want bridal. They want pets. They want more, and we're only 23 weeks old. It's great to have this interaction with them.
Forty percent of the collection is made in the South. How do you source the manufacturers you use? Will you add more southern manufacturers as the line grows?
We'd like to. It's an important part of the brand and it was always very important to us to give back to the South. It's a bit of a discovery process now. We have a lot of people coming to us. It is hard in the South, because a lot of the factories are geared toward government contracts, so it's finding people. We actually made an investment in machinery in some of these factories, so we can work with them. It's a very important proposition to us and we will continue to do it.
Why did you choose the 12 South neighborhood?
We wanted a free-standing store and we wanted the openness of the space and the light. The neighborhood and the community is amazing and it has been very welcoming.
How similar is Draper James to Reese's personal style?
It is Reese's personal style. This embodies Reese. She touches every single piece of product. She does not compromise. She has her hands on everything. She influences it, but she really sits with the designer and creates every piece so it is her personal style.
What are some Draper James must-have items?
There are a lot. I think the dresses are really easy. The handbags and home and gifting and hostess gifting…there are so many. It's hard to choose. We are matchy-matchy. We want to make it easy. We want you to be able to wear the pencil skirt with the denim shirt and then come home and put on the top that matches and go out. Reese is always dressed. She always looks amazing. From early in the morning to late at night we wanted to be able to make it easy for you to incorporate it into your closet. And at the end of the day everyone wants to be pretty, and we hope that we can make that easier for you.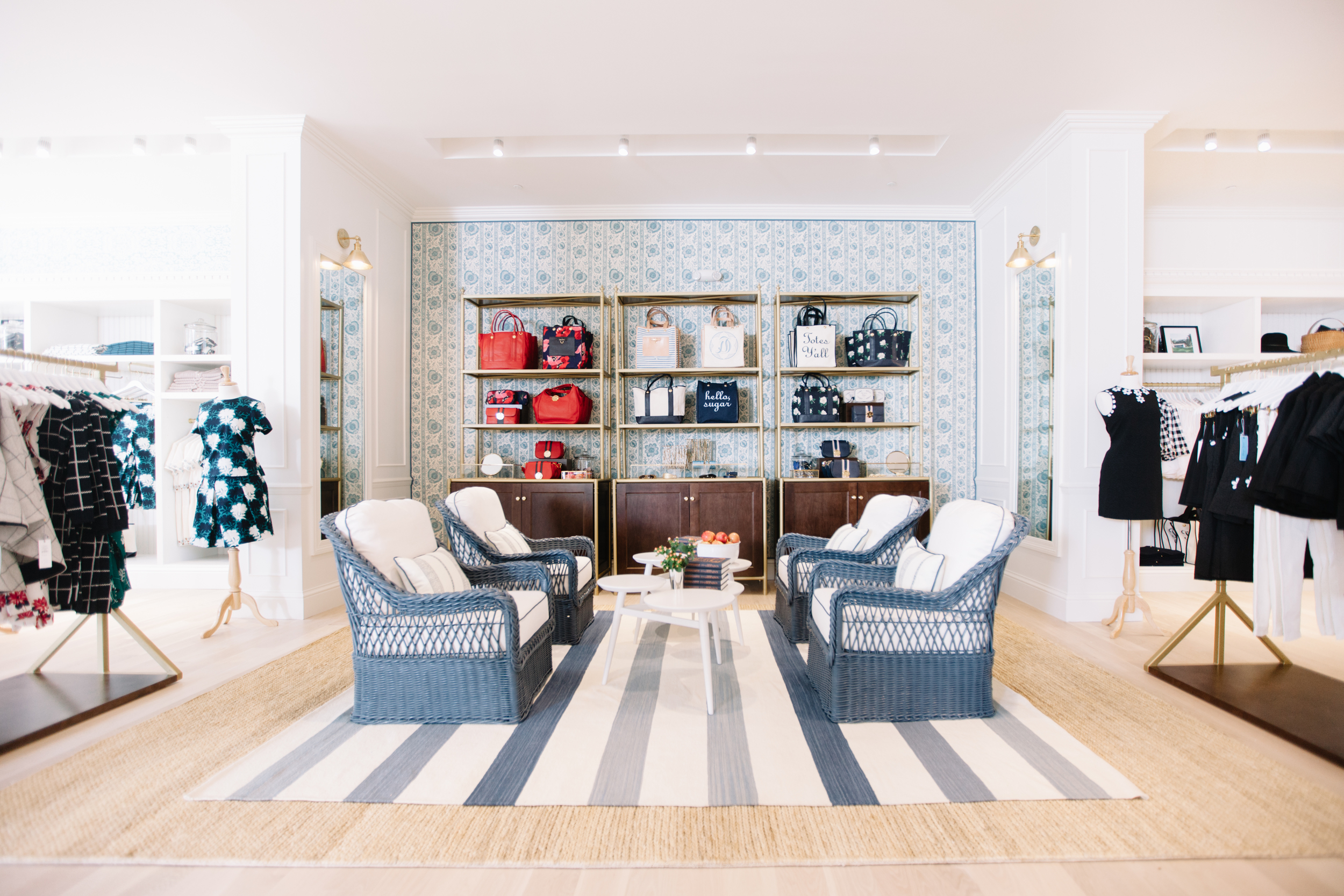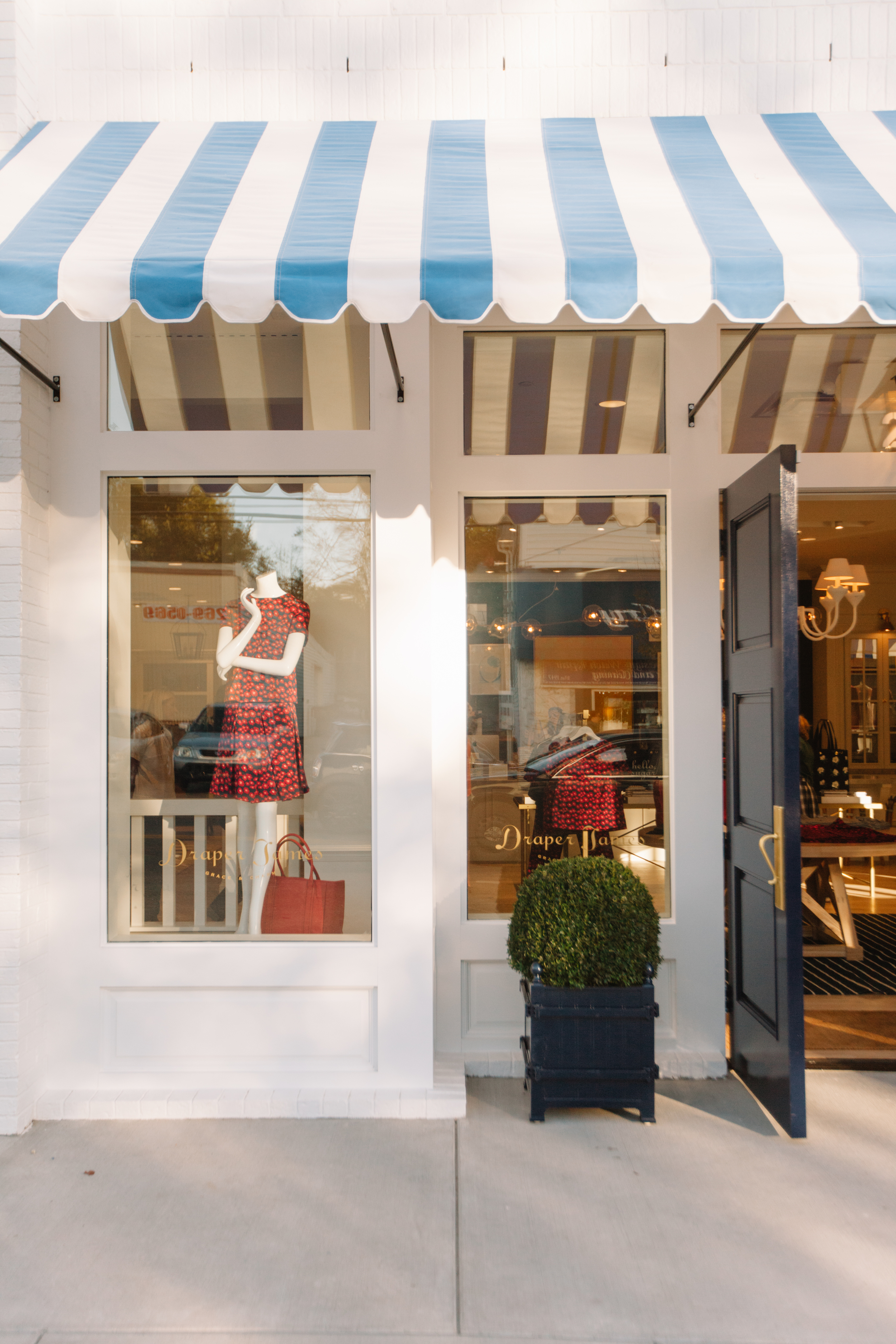 Bold prints and florals have been a big part of the spring and fall collections. What are some of the influencers behind all of these fun prints?
Our designers spend a lot of time in the South, in the textile libraries, in Reese's closet and studying Reese's grandmother's prints. It all is inspired so it is very authentic. That was very important to us.
What are some of the most popular items in the store?
The Totes Y'all bag is the number one selling bag. We've reordered it four times, which is really interesting because it is a canvas bag. It is not inexpensive but it is fun and it has humor to it and represents the brand well. The dresses do extremely well. People are reacting to the colors and to the prints. The stationary that is printed in the oldest printing press in North Carolina has been very big. I think people understand and they know that part of us is southern traditions and thank you notes. Home is doing really well in the store. We've got a lot of gifting coming in for holiday and hostess gifts too.
Are there any special items coming for the holidays that we'll want to add to our wish lists?
There are beautiful dresses to go out in. There are a lot of gifts coming in for holiday, and there are some fun things that capture the southern spirit of the brand, so you'll see it in mittens and hats and scarves. We have mittens that say "Hi Y'all" and "Bye Y'all" which are really fun, and then some more serious home (pieces) with silver, and party dresses.
What can customers expect when they shop at Draper James?
Hopefully we have a really warm and inviting environment. There are a lot of references to Reese's residence that is being built here (in Nashville). It was the same interior designer. That was really important to us. We want you to come in, have sweet tea and sit down and have a warm and inviting experience. We want you to spend time in the store and make it your home.
Explain the Draper James partnership with the YWCA's Girls Inc. program and what that means for young girls in Middle Tennessee.
It was really important for us to always give back to the community and Reese has always been very focused on giving back to young girls and helping them learn how to have control of their future. The financial literacy program was important to us. We kicked it off yesterday with the conference with 500 young girls. It was extraordinary. At the end of the day, we look at each other and say this is why we're doing this….to be able to give back and particularly to Nashville.
What are five of your favorite places in Nashville?
I love Nashville. It's such a foodie city. I love it. I can't come here without having a Las Paletas popsicle. My office is the Frothy Monkey. The first stop when we get off the airplane is Mas Tacos. I love Rolf & Daughters. I love Adele's. I love listening to music. It's an amazing city. I plan on spending more time here.
Photos courtesy of Getty Images and Leslee Mitchell for Draper James. Article originally posted on 12th & Broad.