When my husband and I moved to Nashville 12 years ago, Levy's was the first independent store we visited. There were two things that resonated with us that day. One, this was the store that stocked what was trending in fashion for men and women. Second, the staff was incredibly friendly and knowledgeable, and you could tell they loved what they were doing. There was a community there and with that was a whole crop of loyal customers.
These are the characteristics that keep a local store in business for 160 years. If you're new to Nashville, the fashion landscape 12 years ago was very different. There was a boutique shopping community, but stores were very spread out as neighborhoods weren't as developed as they are today. No one was shopping their way down 12 South. There was no Nashville Fashion Week or Nashville Fashion Alliance, and Nashville had yet to be named the "It" City.
However, when you walked into Levy's then (and this holds true today), you already felt like Nashville was "it." David Levy, fifth generation owner, and his wife Ellen do an incredible job carrying lines from all over the world, many of which are unique to Nashville. Whether Nashville has known it, or been ready for it, Levy's has always been keeping them in style with the most interesting lines for men and women.
I can only imagine Nashville's landscape 160 years ago. Thankfully Zadoc Levy, David's great great grandfather, brought his tailoring business to a storefront on what is now 2nd Avenue. Over the years, Levy's expanded to include multiple stores, but finally settled on one store at the current Green Hills location. It is an incredible accomplishment that Levy's has remained a family business for five generations. It's weathered the Civil War, the Great Depression, World Wars, recessions, floods and the popularity of big box stores and online retailers. Levy's is a testament to stellar customer service, quality product, and being a terrific community partner. They're loved and trusted by their customers and that just makes shopping a much more enjoyable experience. That's what keeps people coming back and that's what builds community.
I had the pleasure of sitting down to talk with David and Ellen Levy. It was the perfect opportunity to learn more about the history of the store and what we should plan on for Thursday night's big 160th celebration.
Was Zadoc Levy a tailor in Germany? Was this your family's trade?
Zadoc Levy was a merchant tailor in Germany and brought those skills to middle Tennessee.
What made him choose Nashville when he settled in America?
He immigrated to Nashville through Columbia, Tennessee with two cousins who had a different last name. We do not know what led him to settle in this area.
Did the store open as a men's tailor shop? Where was the shop located downtown?
We have been told that Levy's was a custom tailoring store during the earlier years. The first storefront was 129 North Market Street (now Second Avenue North). When Levy's first opened, men wore more formal attire as part of the growth of capitalism and entrepreneurship, and Levy's provided expert tailoring and custom clothing to the men in this area.
When did the tailor shop become a retail store?
Sometime around 1855.
What types of apparel did the original store specialize in?
The style during those years was single and double-breasted waistcoats and triple pleated shirts for men. Sportswear became available in later years as styles changed.
With Nashville being the second most fortified city during the Civil War, what did that mean for the store? Did it remain open?
As far as we can tell, Levy's remained open during the Civil War. Those had to be very interesting times. Most likely, the tailor shop portion of the business remained busy as men moved in and out of Nashville and there was a great need for tailoring of uniforms.
How did the Depression era impact the store? Do you know what was most in demand?
During the depression, there was a shortage of tailored suits, and ready to wear suits became more affordable.
When did Levy's start carrying women's apparel?
We started featuring women's apparel during the early 1980's when men's manufacturers produced tailored women's wear, which was high quality corporate attire. Most of our vendors at that time were men's manufacturers. Around 1990, many men's manufacturers stopped producing women's apparel so Levy's also discontinued the department. In 2001, after a major renovation, we began to offer apparel and accessories for women.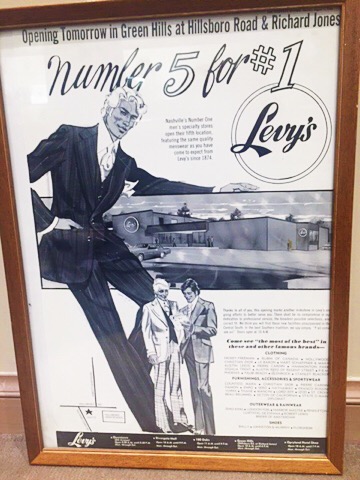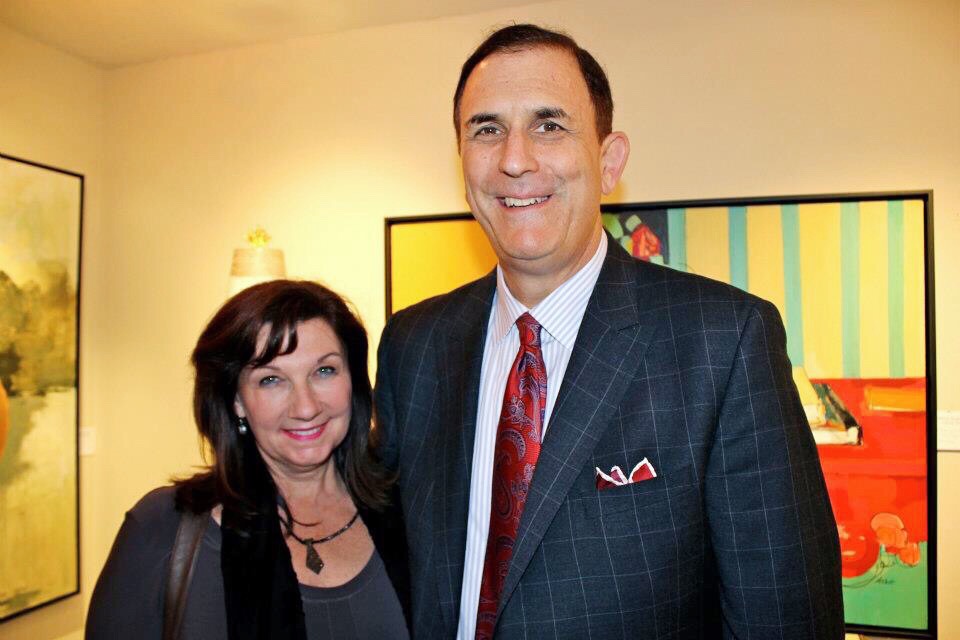 What can customers expect when they shop Levy's today?
Our focus at Levy's is to provide a comfortable, inviting atmosphere where you can experience the finest in clothing options in a relaxed and friendly setting. At Levy's, it's not about fast fashion, but more about the emotional connection that our clients feel when they are wearing properly fitting attire.
How do you determine the apparel lines you carry?
We shop numerous markets seasonally, including those in Europe, New York, Chicago, Las Vegas, and Montreal. We receive trend information from our New York buying office and our discussions with fellow retailers.
What are the lines you've carried the longest?
We have carried Hickey Freeman Clothing, Gitman Bros, and Robert Talbott for many years – all American based companies.
Are there any new lines you're excited about?
We are always searching for new brands from around the world. Eleventy is a contemporary Italian sportswear collection with much creativity. Scandinavian based brands Circle of Gentlemen, Sand and Eton bring exciting styles to Levy's.
What do you love most about owning a retail store?
I love the one-on-one relationships that we form with employees and clients.
Is there any advice you would give someone who wanted to open a store?
Have about twice the amount of capital as the budget requires. It takes a lot of patience and energy to be successful.
Name five of your favorite places in Nashville.
Walking in my West Meade neighborhood or one of the parks and greenways, Union Common Restaurant, Hattie B's, Lockeland Table, and any golf course.
Can you share any special details about the 160th anniversary celebration?
The evening is a fundraiser for Second Harvest Food Bank, with lots of silent auction items from our manufacturers and local businesses. We will also have numerous vendor representatives here for trunk shows Thursday and throughout the weekend. We will receive a proclamation from the Vice Mayor.
Don't miss Levy's huge anniversary celebration on Thursday, Oct. 29, from 5-9pm. There will be a number of trunk shows including men's apparel from Circle of Gentlemen, gorgeous jewelry from Remo Tulliani and leather wares from Trask, just to name a few. I'm looking forward to snacks from Hattie B's and Union Common and of course there will be cocktails and music.
Congratulations Levy's! 160 years looks good on you.